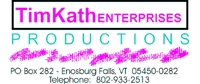 TimKath Enterprises Productions is a full-service Sound, Lighting, and Production Coordination company. These services coupled with our Sales and Service departments and our Artist Management and Representation departments provides you, our customers, with a one-stop turnkey production support firm.
The Services
- Lighting
- Stage Lighting
- Special Effects
- Mood Lighting
- Tent Lighting
| | |
| --- | --- |
| - Sound | |
| | - Single pieces to complete systems |
- Full Show Production
- Equipment Rental
- Technical Support Staff
- Technicians/Crew
- Staging
- Rigging
- Stage Management
- Production Management
- Club, Convention Center, Hotel, Restaurant Installation
- Audio Visual Rentals
- Corporate and Industrial Trade Show Services
- Artist Management
- Artist Representation
Types of Events
- Theatrical
- Concerts
- Fairs
- Festivals
- Pageants
- Auctions
- Tractor Pulls
- Weddings
- Award Ceremonies
- Corporate Meetings
- Dance Recitals
- Skating Shows
- Dinners
- and all kinds of
other events.
Some of Our Clients
- Vermont Dairy Festival
- Miss Vermont Pageant
- Green Mountain Chew-Chew
- The Gate Players
- Enosburg Falls High School
- and many, many more............
- Franklin County Field Days
- Vermont Maple Festival
- Highgate (VT) Arena
- Lise T. Gates, Inc.
- Enosburg Falls Middle School
TimKath Enterprises Productions has been serving Northern New England and Northern New York for the past 15 years. The diversity of TimKath has allowed us to work in corporate events, theater, outdoor events, fairs, festivals and other live and recorded productions. We have the ability to supply lighting, sound, staging, specialized equipment and supplies, special effects, and production coordination allowing you to make TimKath Enterprises Productions your one-stop production service.
There are a number of ways that we might be able to assist you with your production or entertainment production:

1. We Do the Whole Job

Lighting, Sound and full production coordination may look easy but it's not always that way. Good shows require experienced people. You want the show executed in the right way and you want problems dealt with quickly when they occur. Our specialty is professionally doing the job.
2. Equipment Rentals
We have plenty of nice items for you to rent if you have the desire and the skills to do your own Sound and Lighting. Anything we don't have in our warehouse, there is a good chance that our associates do in theirs.
3. Assisted Rentals
Sometimes economics tells us that it doesn't make sense for us to run or coordinate your whole show. At the same time you may still want our help and our equipment. The "assisted rental" may be be the answer. We'll put together a package of equipment that'll work for you. We'll deliver it, We'll set it up. We'll teach you how to run it. When the show is done, we'll take it all down and away.
Some steps toward the final price proposal:
1. Give us your show dates and location of show.
2. If you want to rent equipment, tell us what you'd like.
3. For all else, Tell us about your show or program:
a. What are you trying to do?
b. What sound, lighting and effects will you need?
c. What other types of services or assistance are you looking for?
d. Do you have a budget in mind?
e. How many shows will you do?
f. How long will they last?
g. How many rehearsals?
h. How long will they last?
4. If you are renting equipment:
| | |
| --- | --- |
| | - Do you want it delivered or do you want to pick it up? |
| | |
| --- | --- |
| | - Remember, sound and lighting can be heavy, bulky, and fragile. If something happens to it while you are transporting it you have assumed responsibility for the broken item(s). |
5. For shows we coordinate, consult or design, the site is of great importance. If we have never been there, we arrange a visit. We measure, we photograph, we plan.
6. We'll get a "plan proposal" to you in the form of an estimate. Every lamp, cable, dimmer, microphone, amp, other piece of equipment, supply and service (and the cost of each) is listed. Labor Charge (if any) and delivery fees (if applicable) will be listed too.
7. If you like it -- we book it.
If you don't -- we will revise it until you do or quietly go away (though we do prefer the first ...HAHAHA!!!!).

©2003 TimKath.com and TimKath Enterprises Group of Companies
Page created and maintained by TimKath Enterprises Business Services Division
For More Information check out our Copyright and Trademark Page
This Page Revised: September 3, 2003 5:41 PM