Published by: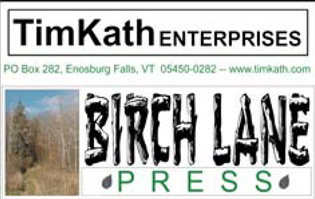 Welcome to
Gospel Music Ministry of

Join the authors of "On Vermont Time ..." on a journey through life in the Green Mountains of Vermont. One minute it's the 1950's and the next it is present day. Each writer, poet, photographer and artist explores the many aspects of everyday life living in Vermont. They share stories of their escapades as kids; stories about growing up and even more stories as they live through adulthood and encourage the next generation of Vermonters.
Even the photos found scattered throughout give you a bird's-eye
view of life in the second largest state in New England ... home to the best Maple Syrup, Cheese, Wines, Local Brews and much, much more. Oh and yes we can't forget the best skiing anywhere.

As you read this book you'll have a chance to laugh, maybe to cry, but most importantly to feel like you're a part of the trip.

All ... "On Vermont Time ..."

"On Vermont Time ..." the Book ... AVAILABLE NOW!
To Reach Us By E-Mail - tim@timkath.com
©2001-2013TimKath.com and TimKath Enterprises Group of Companies
Page created and maintained by TimKath Enterprises Business Services Division
For More Information check out our Copyright and Trademark Page
This Page Revised: October 1, 2013 6:02 PM

and
and Birch Lane Records
are P