Published by: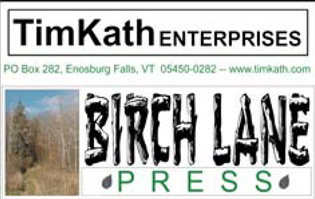 Welcome to
Gospel Music Ministry of

What Others Are Saying About "On Vermont Time ..."
"Timothy Stetson has done something truly remarkable here. He has taken regional writing and brought it into sharper focus, creating an anthology that could almost be called "Neighborhood Writing". Here we find an intimacy and appreciation of place that could only be expressed by insiders: real small town Vermonters."

-- Joseph A. Citro, author of Green Mountains, Dark Tales and Passing Strange

"Your essays are like love letters to Vermont ..."

-- Lesli Blount, Williston, VT
"On Vermont Time ..." the Book ... AVAILABLE NOW!
To Reach Us By E-Mail - tim@timkath.com
©2001-2013TimKath.com and TimKath Enterprises Group of Companies
Page created and maintained by TimKath Enterprises Business Services Division
For More Information check out our Copyright and Trademark Page
This Page Revised: October 1, 2013 6:00 PM

and
and Birch Lane Records
are P